Loved by all and hated by some, Jennifer Aniston has found her way back to our radar. Known for her flawless acting skills and lack of age, Jennifer also has some quirks that make her a subject of constant speculation. For someone who brings so much joy to the audience, they have often given it a hard time. From time to time, the star is put in the spotlight for two or three strange reasons; one of them being Jennifer Aniston's kids or her absence.
Jennifer Aniston's Kids
This subtitle can be replaced by the subject, Jennifer Aniston's many baby bumps. Despite the fact that our evergreen beauty has a beautiful body, her stomach has sometimes raised a few eyebrows. Many tabloids have portrayed her as a future mother. Although this is unfair to the actress, she gave them material to work with them.
The first specimen; at the premiere of "We Are The Millers" in August 2013, Jen donned a pretty purple dress that embraced her at every curve, including the concave curve of her belly that looked exactly like a baby bump. At the time, the actress had taken a break from the exercise, and, as a result, she developed a belly shaped like a baby hump.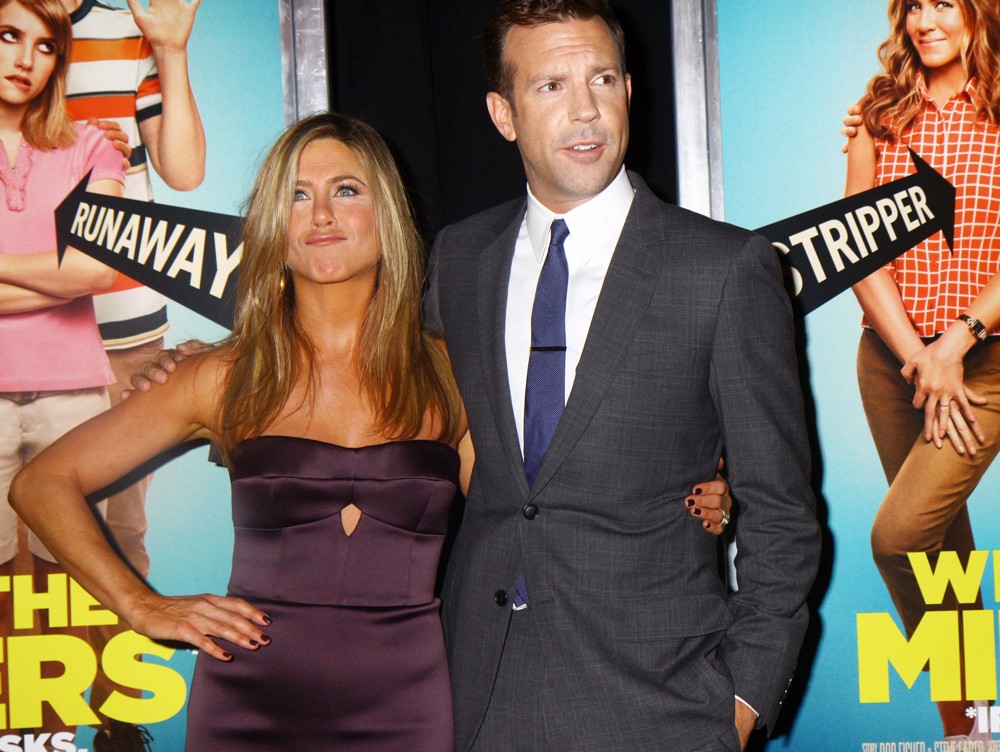 The next film is even more convincing, the date was August 14, 2014, during the premiere of the film,' Life Of Crime'. Jen was wearing a silver sequined dress and for God's sake, it was convincing.
We don't know if it was the lighting or the fabric, but it certainly looked more like a second-trimester bump than a few burritos. You went on a silver glitter tray this time, Jen.
ALSO READ: Young Jennifer Aniston: The Secret To Her Youthfulness
Our latest specimen is more recent and has a touch of love, earlier this year, in June, the star took a well-deserved vacation with her husband, Justin Theroux, after her mother's death. Jen was seen on the beach, wearing a bikini and a swollen belly. The paparazzi took the initiative to help him announce the supposed good news.
It must have really rubbed the star the wrong way, because she wrote a frank open letter to dispel everyone's doubts and express her unease, once and for all. It was about time, Jen was speculated to get pregnant more times than we can remember.
In the letter, she said, "I don't like to be made to feel less than because my body changes and/or I ate a hamburger for lunch and was photographed from a strange angle and so I was considered one of two things: "pregnant" or "fat". If I am a kind of symbol for some people, then I am clearly an example of the purpose through which, as a society, we see our mothers, daughters, sisters, wives, friends, and colleagues".
When we meet Jennifer Aniston's kids, it will be a pleasure. Go ahead, Jen!
Jennifer Aniston's Husband
People still hear Jennifer Aniston's name today and their minds turn to Brad Pitt who is currently married to Angelina Jolie. The couple married on July 29, 2000, and 4 years later, the divorce papers were signed. Apparently, he cheated on her with his current wife Angelina Jolie, but there are no hard feelings between them.
More recently, she married another actor, Justin Theroux, on August 5, 2015. Since then, both parties have been more than comfortable with the arrangement. Justin was born in Washington, but his last name makes you wonder which region of France he comes from. In fact, he has only French-Canadian roots.
He is currently an actor, director, and scriptwriter. Some of the well-known films he has written on-screen are Iron Man 2, Rock of Ages, and Zoolander 2. Since 2014, he has played the role of Kevin Garvey in HBO's The Leftovers series.
ALSO READ: Jennifer Lopez Feet, Shoe Size, and Shoe Collection
He met evergreen beauty in 2011, while and they started dating after working on the movie 'Wanderlust', after a 14-year relationship with Heidi Bivens. They were engaged in August 2012 and married in 2015.
Jennifer Aniston's Boyfriend(s)
Throughout her many years on the big screen, a handful of men were romantically linked to Jennifer, we were able to track down seven names. The number one on the list is Adam Duritz, with whom she dated in 1995, he was the head man of the Counting Crows in case you were wondering.
From 1995-1998, she went out with Tate Donovan, they even got engaged but broke up a few months later.
She continued to date Paul Rudd in 1998, but it didn't last either, apparently, there was something adorable about it. Jen has the ability to bounce back like a boss, later in 1998, she started dating Brad Pitt and in 2000, they had made the knot. Do we have to say more about what happened, this story told itself.
In 2005, Jennifer started to see her co-star Vince Vaughn, "The break up", apparently people were supporting them. In 2008, the star went out with John Mayer, and what was his fan's reaction to that? There were shivers. No one, except maybe Jen was sad when they broke up the next year.
Today, our "love lover" is married to Justin Theroux, whom she met in 2011 and married in August of last year. Only the terrorists and the devil himself are not happy for her.
Dad
His name is John Aniston and he is partly responsible for Jen's liberation and her genius in the world. He was born Giannis Anastasakis and was born on July 24, 1933. He is a Greek-American actor best known for his role as Victor Karakis in the television series Days Of Our Lives. He has two children, each from a different wife, Jennifer Aniston with his first wife Nancy Dow, and a son, Alexander with his second wife Sherry Rooney Aniston.
John Aniston is currently 83 years old and looks at least 20 years younger.
Quick Facts About Jennifer Aniston
| | |
| --- | --- |
|  Date of Birth: | 11 February 1969 |
|  Age: | 51 years old |
|  Birth Nation: | United States of America |
|  Height: | 5 feet 5 inch |
| Name | Jennifer Aniston |
| Birth Name | Jennifer Joanna Aniston |
| Father | John Aniston |
| Mother | Nancy Dow |
| Nationality | American |
| Birth Place/City | Sherman Oaks, Los Angeles |
| Ethnicity | White Ethnicity |
| Profession | Actress |
| Net Worth | $150 million |
| Hair Color | Blonde |
| Body Measurements | 34-23-35 inch |
| Breast Size | 34 C |
| Weight in KG | 51 KG |
| Famous for | Actress |
| Married | Yes |
| Married to | Brad Pitt (m. 2000) |
| Divorce | Brad Pitt (m. 2005) |
| Education | Fiorello H. LaGuardia High School |
| Awards | Golden Globe Awards |
| Movies | Horrible Bosses 2 |